By: Brittannia Gordon
Every year, the Public Relations Student Society of America (PRSSA) holds the Bateman Case Study Competition, a premier national competition that allows public relations students to apply what they learn in the classroom, and develop and execute a full public relations campaign. So it was an honor when Seton Hall University accepted me into its 2018 Bateman Case Study team.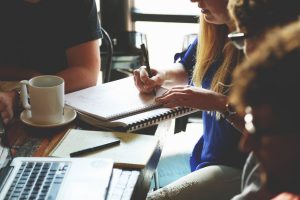 To be successful in the Bateman competition, PRSSA recommends the following:
Conduct research
Know the issue
Proofread and organize
During my internship at GLA Communications, I find that I use these skills every day.
Good research skills are important because in PR you often have to get up to speed quickly on industries or topics you know little to nothing about. For example, one of the main clients I work on is the Consumer Technology Association (CTA), an organization I'm learning more about each day, thanks to the research I do for various projects that I am assigned.
Know the issue, or in other words, be familiar with the topics you're covering. This goes hand in hand with using my research skills. In order to complete assignments effectively, I have to first understand the topic. I've learned that the easiest way to get familiar with a topic is to ask questions. For example, I recently had to find relevant articles on the issue of 5G technology in different industries. But before doing this, I had to be knowledgeable of what exactly 5G was first.
Finally, proofreading and organizational skills are crucial to success. In the world of public relations, the smallest mistakes can make a big difference. As an intern, I'm tasked with proofreading on a daily basis. Clients often don't understand how many tasks agency people juggle, but it doesn't matter. They expect you to send over error-free documents, whether it's an email or a comprehensive report. In order to stay on top of the multitude of tasks I'm assigned, it is essential that I'm highly organized. That includes saving documents on the server and coming up with a filing system that is organized and makes sense so that when I'm not in the office my co-workers can easily find them.
My internship at GLA Communications has allowed me to use these skills for success on a regular basis, and I look forward to continue applying them during the 2018 Bateman Case Study Competition so that I am well prepared to enter the workforce when I graduate.