I recently returned from CES 2018, the world's largest trade show, held each year in Las Vegas. I've done PR/media for many amazing conferences during my career, but none of them on the scale of CES. It is huge, really, really huge!
How massive is this show? Consider just a few key stats: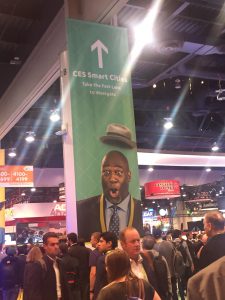 An estimated 175,000 people attended (official audit numbers aren't due out for another couple of months)
More than 150 countries were represented – I loved hearing the multitude of languages spoken as I walked the convention halls.
275 million net square feet of exhibit space, or roughly half the size of Vatican City!
More than 900 companies — more than double the previous year — exhibited in Eureka Park, an area reserved specifically for startups. This is often where the next big game changers and the household names of the future emerge from.
Many people have asked me what it's like doing PR for a conference of this size. How did we manage? For starters, it takes a village, ranging from programming staff who put together the educational sessions, operations folks who handle the myriad of logistical details, countless of tempor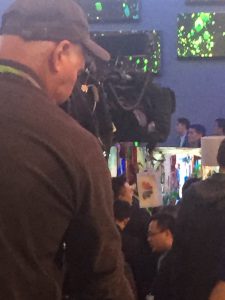 ary personnel who manage registration, and a robust communications team, ranging from CTA personnel to contractors, including our agency, which manages broadcast media pre-show, onsite, and post show. And, of course, months of planning, which starts soon after the conference ends.
From a media standpoint, CES is what every PR practitioner dreams about. The conference is known around the world and there are plenty of terrific stories to tell, which results in media coverage worldwide. A few really ambitious media outlets even live streamed the event 24 hours!
What are the keys to success to garnering media coverage for a trade or professional conference?
A client that has news. At CES, there is no shortage of news to promote, from the latest health products and technology to advances in artificial intelligence and robotics to smart cities and how they will change the way we as a society live. Not all clients can land in USA Today or be on CNN; however, other clients have interesting news to announce in a key trade publication, and that can be just as valuable. The commonality is you have to have something newsworthy.
Great spokespeople who are flexible. At conferences large and small, everyone is busy. However, media opportunities often come up on a moment's notice and reporter's deadlines aren't flexible. Having a cadre of smart spokespeople who understand that and can respond on immediately are worth their weight in gold! WhatsApp was invaluable in getting the word out quickly when we needed a spokesperson at a moment's notice.
A solid understanding of the media and what they cover. Yes, the way news is delivered has changed, but what has not changed is understanding how media – whether traditional or "new" – work. This often comes down to nuances in what different outlets cover. GLA Communications has covered the tech industry for three decades, both from a journalistic and a PR perspective, so we truly know what is newsworthy and which outlets to pitch specific stories to.
A good working relationship with the media. Many tech reporters have covered the industry for years, albeit in different capacities. GLA Communications has earned the respect and credibility of being a dependable resource for reporters, which goes a long way in whether a journalist will take your call/respond to your email over the literally hundreds of other pitches they receive a day. This relationship also extends beyond tech reporters because it comes down to understanding how different outlets operate and what makes news.
A client who has a healthy respect for PR. Not all clients are like CES and have a segment worthy of The Today Show. However, there are plenty of other ways to get a client's news out, whether it's through the media or some other means. I've worked with hundreds of clients over my career, and the best ones respect and value the full spectrum of expertise and counsel their PR team brings to the table.
Handling media relations for the largest tech show in the world was mind-blowing, exhilarating, and energizing. And, like all conferences, it was exhausting! But, let's face it, that's where we PR practitioners thrive! It was a rewarding experience to have played a role in such a world-renowned event where the products and technology showcased are changing the world in ways that are hard to comprehend.