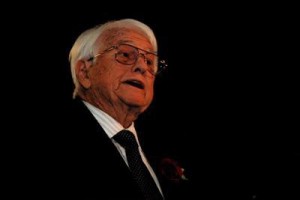 Jack Wayman, the father of the International CES, passed away on Saturday night at age 92.   Jack was one of a kind – a salesman, a showman, a visionary, a family man and a friend to many.   He was larger than life and continued to love, support and promote the consumer electronics industry until the end.  When I talked with him in May before he moved to Colorado to be with his family, he shared his thoughts on what we should be doing to promote the industry.
Jack started out working for the EIA Consumer Products division in the early 1960s which eventually became the Consumer Electronics Association.  In 1967, he created the first CES which started out with just 100 exhibitors and 17,000 attendees and has grown into the world's premier technology show.  And he made history fighting the famous Sony-Betamax case which set the stage for home recording rights and all the technologies we take for granted today.
He wasn't just proud of the industry he helped create, but of his family – he talked about them all the time.  I am so pleased that over the years I had the pleasure of meeting them and sharing stories about their dad.  He spoke fondly of his years at Davidson College and was honored to be an Army vet – having fought at the Normandy Invasion and the Battle of the Bulge.
I first worked with Jack in the early 1980's at the Frank Barth agency in New York as CES was one of our accounts.    This was my first PR job having made the transition from covering the CE industry as a reporter with a couple of trade magazines to promoting the industry.  We always knew when Jack was in the office as there were large platters of Danish and bagels waiting for us in the break room.  He was demanding, but always caring and his passion for the industry and its people came through loud and clear.
Jack was a living history of the industry with an amazing memory.  He could recall people, events, and dates going back many, many years and was happy to share this information with anyone who would listen.
Everyone who has ever worked in CE has Jack to thank for creating an industry that gave us jobs and more importantly, lasting friendships.  Jack was a client, a mentor and a friend and it won't be the same at CES in January without him coming into the broadcast office to say hi accompanied by the Wayman brood.